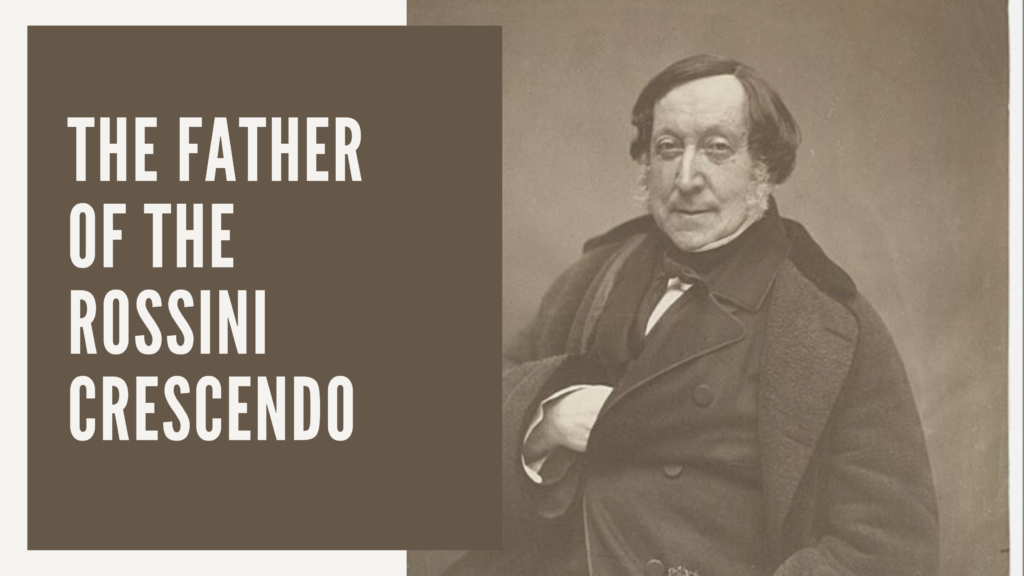 Among the many composers who have left their infallible marks in music, the father of the Rossini crescendo rates high. This unique sound was originally created by several musical devices playing together to create a natural crescendo in the music. Otherwise known as the Rossini Rocket, it is a true homage to the temperament of Italian music and culture.
"Give me the laundress' bill and I will even set that to music." – Gioachino Antonio Rossini
Rossini's musical beginnings
Gioachino Rossini was born into a small family of two musicians, Anna Guidarini and Giuseppe Rossini. His father was a locally famous trumpeter and a slaughterhouse inspector, while his mother, a baker's daughter, was a singer. Hence, Rossini's love of music was only perhaps surpassed by his love of gourmet dishes.
Rossini started out early, playing the triangle in his father's band at the age of six. His father was supportive of the French Revolution, even after moving to northern Italy. In 1799, once the old regime was reinstated, he was imprisoned for his political activism. Rossini's mother had to move to Bologne with their son, where she began earning money by singing in regional theaters.
Despite a period spent learning how to be a blacksmith, Rossini found a number of music teachers growing up, including Father Angelo Tesei. Tesei taught him how to play accompaniments on the piano, as well as how to sing. By the age of ten, this helped Rossini find solo parts in the local church. He also began composing and writing music and had obviously taken inspiration from Mozart's and Haydn's works.
Nothing but opera buffa
Accounts would have it that Rossini wrote his first opera at the age of either 13 or 14, although it wasn't published until he was 20. By the age of 16, Rossini earned a prize for one of his cantatas at the Conservatory of Bologna, during his time there as a student of the cello. He went on to have one of his operas produced just two years later, and five others by the time he was 20. Two of those scores – Tancredi and L'italiana in Algeri – would make him world-renowned and quickly.
Rossini built a rich and varied career for himself, earning the respect of his mentors, contemporaries, and audiences across Europe. In 1822, he would meet a sickly, deaf, middle-aged Beethoven, with whom he corresponded frequently. Beethoven seemed to enjoy the young Rossini and his music, remarking once, "Ah, Rossini. So you're the composer of The Barber of Seville. I congratulate you. It will be played as long as Italian opera exists. Never try to write anything else but opera buffa. Any other style would do violence to your nature."
Gioachino Rossini traveled the world over, holding numerous positions as a composer and musical director at several theaters. In total, he composed 39 operas, along with several sacred and chamber scores, songs, and piano compositions.
"One thing I believe I can assure you – that of my works, the second act of Guglielmo Tell, the third act of Otello, and all of Il Barbiere di Siviglia will certainly endure."
The legacy of the Rossini crescendo
Gioachino Rossini and his passionate works surpassed the popularity of previous composers or any of his contemporaries. He lived a long and certainly prosperous life, 76 years old at the time of his death. He died of pneumonia in his summer home in Paris, France.
Rossini certainly left a great impression on the music of his time and our collective history and culture. He is still considered a great innovator in his field, with several outstanding compositions and operas. His signature Rossini crescendo – the exciting buildup of orchestral sound over a repeated phrase – is one that we can still easily recognize in a number of compositions.