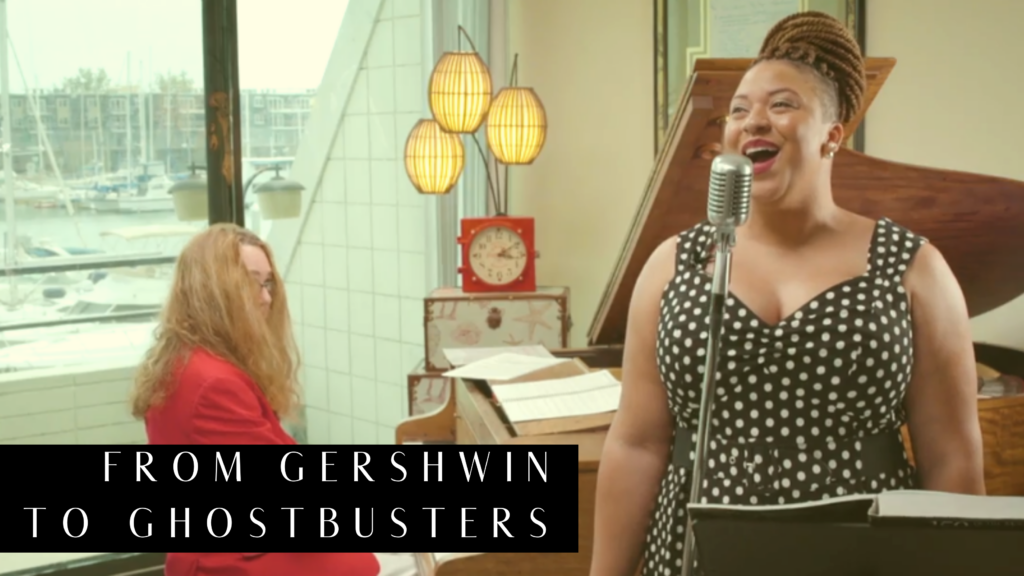 It's been a year since we began production of the Viva Virtuoso YouTube variety show. The first episode, featuring soprano Candace Bogan, first aired on October 5th, 2017, and we've since created another four fun-filled, eclectic episodes with some amazing artists that we continue to learn from.
In the meantime, we've worked out most of the kinks, having experienced various technical glitches that we hope no one noticed, and we will soon be preparing for the production of our second season. Though we still have a few episodes to go in this first season, we've recently been looking over everything we've created so far.
Today, we're sharing a few of our favorite Viva Virtuoso moments and tunes with you. There's a lot that goes on behind the scenes and in preparation for the shooting of the show. We hope a lot of that effort and the fun we have back stage comes through in the final product.
Can a YouTube variety show stay true to form?
A recent favorite is this original piece by Chazzy Green, dedicated to his father, on the most recent episode of the show. Working with Chazzy was nothing short of electrifying. Having him perform an original piece was nothing short of an honor. Chazzy, we hope to have you back for a stint in Season 2!
A little drama never hurt no one
Looking back on all of the episodes we've aired so far, we couldn't help but notice that we've often shown preference for some composers over others. Gershwin's opus has been a recurring theme on the show and we expect this trend to continue. We do believe, however, that Viva Virtuoso does Gershwin a little differently than audiences might expect. Case in point: soprano Shayne Dalva's magnificent dramatic rendition of a favorite Porgy and Bess tune on episode 4.
A leap of faith
When Viva Virtuoso host and creator Warren Peterson decided to go ahead and produce an independent online musical variety show, he knew it would require a leap of faith or two. He wanted to feature lesser known working musicians and singers of great talent. He wanted to talk about music, through music.
No other episode (so far) depicts this better than Hell o' Cello with young master cellist Tao Ni. In what very well may be a historical first, our favorite piece from that episode is this piano/cello rendition of the 1946 jazz standard 'Angel Eyes'. Read more about Tao's own leaps of faith in our interview with him.
Playing favorites
One of the best things about producing a YouTube variety show is… well, the variety! We'd love to be polite and say that we don't play favorites. But the truth is, with all due respect to the romantics, a jazz standard is a jazz standard is a jazz standard. That's why one of our all-time favorites (and an audience favorite, if viewing metrics have anything to say about it) comes from our debut episode with Candace Bogan. We're hoping to have Candace back on the show in Season 2 as well. In the meantime, we have this to remember her by.
A year of Christmases
One of the greatest things about this still new(ish) connected era that we live in is that you can find and watch anything, any time you feel like it. For the Viva Virtuoso crew, that has meant that Christmas has come several times over the last year for us and we can go back and watch our holiday special any time.
Having five amazingly talented performers on the show, from autumn to spring, has been like celebrating a large family holiday every six weeks or so. We now have a regular crew of over a dozen people working on the show and coming together to create something we each enjoy and can be proud of.
This is the gift that keeps giving. We are thankful to our guests and audience for giving us a platform to keep doing what we love.
On that note, we'll end this short walk down memory lane with a sweet nostalgic piece we all know and love, performed by Jocelyn Scofield in our Christmas special. Aside from being a wonderful performer, Jocelyn is also a voice coach and works with us behind the scenes on the show occasionally. We'll have to get her back in front of the camera soon.