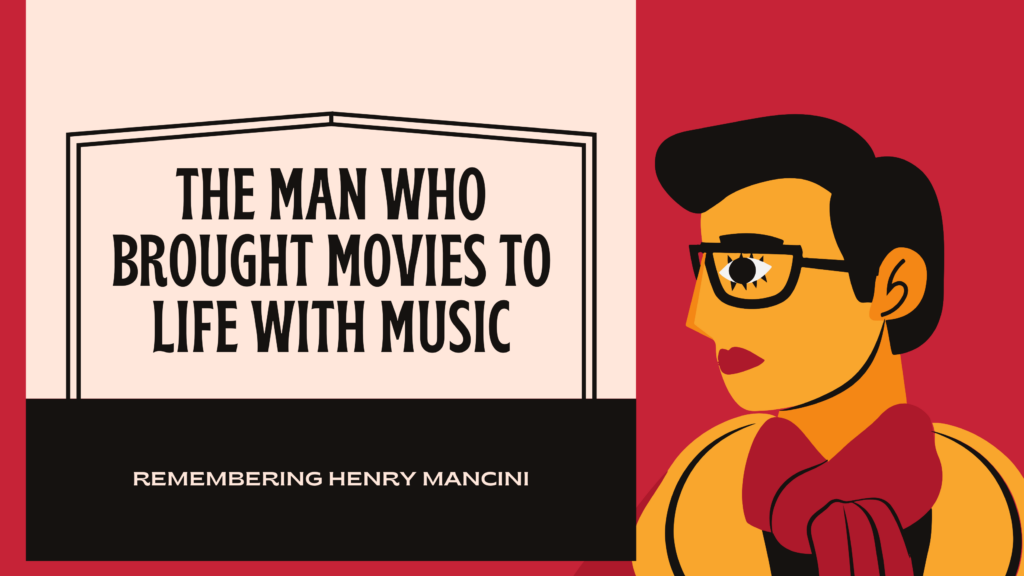 Every human with access to cable television has heard at least a dozen Henry Mancini songs over their lifetime. Many of us have heard hundreds of his songs countless times. Whether or not we know the songs were composed by Mancini, there's an inimitable signature in each of his tunes. We know it when we hear it. One of the 20th century's most prolific composers, Mancini is an intricate part of everything that goes after.
Sax master Chazzy Green has made this episode of Viva Virtuoso nothing short of Unforgettable. (There's an Easter egg in there for Nat King Cole fans!) Out of almost three hours of phenomenal footage, we managed to cut the episode down to just an hour. The episode is now live on our official YouTube channel, to which you should definitely subscribe. Especially if you'd like to be notified when we release some of the bonus footage from the shoot.
Though we tried to bring Chazzy's charm and many talents to light in this episode, we did mention the one tune that nearly everyone around the world has certainly heard Chazzy play. Back in 1984, Chazzy Green was invited by Ray Parker Jr. to participate in the creation of a nifty soundtrack item. The composition became a globally popular and favorite track of the 1980s – the theme song for the blockbuster original Ghostbusters movie. Fun fact: Green and Parker still tour together.
Chazzy's wailing sax on that track has been an inspiration in many ways lately and we've revisited some of our favorite film scores and their creators. Obviously, we had to begin with a few select favorites among hundreds of Henry Mancini songs.
One of the great names of contemporary music, Mancini produced countless famous scores, from pop culture markers like Breakfast at Tiffany's, the Pink Panther and Victor/Victoria to others we'll recognize in the first four beats.
100+ awards and 500+ Henry Mancini songs
During his career, Mancini was nominated for 72 Grammy Awards, 18 Academy Awards, and two Emmy Awards. He took home 20 of those Grammys, four Academy Awards, and was honored with a Golden Globe. Mancini recorded over 90 albums, in styles from jazz to pop and beyond, and was had eight of those certified gold by the Recording Industry Association of America.
Born in 1924, in Cleveland, Ohio, Henry was the child of Italian immigrants. His father, Quinto, a steelworker and an avid flutist, first introduced his child to piccolo at the age of eight. The family moved near Pittsburgh, Pennsylvania, where Henry soon took up piano and an immediate interest in arranging.
The young Enrico (not yet Henry) graduated from high school in 1942 and enrolled in New York's famed Juilliard School of Music. (Which just so happens to be the alma mater of Viva Virtuoso host Warren Peterson.) His studies, unfortunately, came to an end a year later when he was drafted. Mancini served overseas in the Air Force. He later participated in liberating a group of concentration camps in Austria, after a short assignment in an army band. We can almost hear the soundtrack to this part of his life in some of his later work.
Mancini joined Universal Studios in 1952, where he spent six years contributing to an incredible 100 movies while there. Scores for classic golden era flicks such as It Came from Outer Space, Tarantula, and The Glenn Miller Story were born during that stint, earning him his first Academy Award nominations. Other notable mentions include The Benny Goodman Story and Orson Welles' Touch of Evil.
Bringing pizzazz to Hollywood
With the likes of Johnny Mandel and Alex North, Mancini too pushed for the inclusion of jazz elements in television and film scoring. This was chiefly possible due to his relationship with writer and producer Blake Edwards, which also resulted in them working together on 30 movies, over 35 years of collaboration. We are deeply grateful to them for leaving us with the Pink Panther series.
He also composed a number of popular songs, recorded and sung by many of our favorites – Frank Sinatra, Liberace, Herb Alpert, to note just a few – and was an in-demand concert performer. The prolific engagements that he managed to produce annually, totaling in the end to over 600 symphony performances, were always in demand.
Among others, he conducted the London Symphony Orchestra, the Israel Philharmonic, Royal Philharmonic Orchestra and the LA Phil to boot. Mancini said that the Minnesota Orchestra was one of his favorites to work with. Over his lifetime, Mancini recorded over 500 compositions, all of which are still available and popular today.
For those interested in how this brilliant composer's work habits, Mancini penned two books on the topic. The first, Sounds and Scores – A Practical Guide to Professional Orchestrating, is vastly popular among students of the musical arts.