On the first Viva Virtuoso show, we were joined by the unique and unmistakable voice and presence of lyric-soprano Candace Bogan. Candace has recently been singing the coveted lead in Marina Del Rey Symphony's production of Verdi's Aida. She hopped over to our end of the Marina on a Sunday to join us for and afternoon of champagne and Gershwin, all of which you'll see in the premiere of the show any day now.
After the show, we sat down with Candace for a talk about music, good habits, and life in general – a backstage moment you won't be seeing on the show, but one we have decided to share here. Getting to know Candace and her voice better during the show was a tremendous pleasure for all of us and we know you'll agree.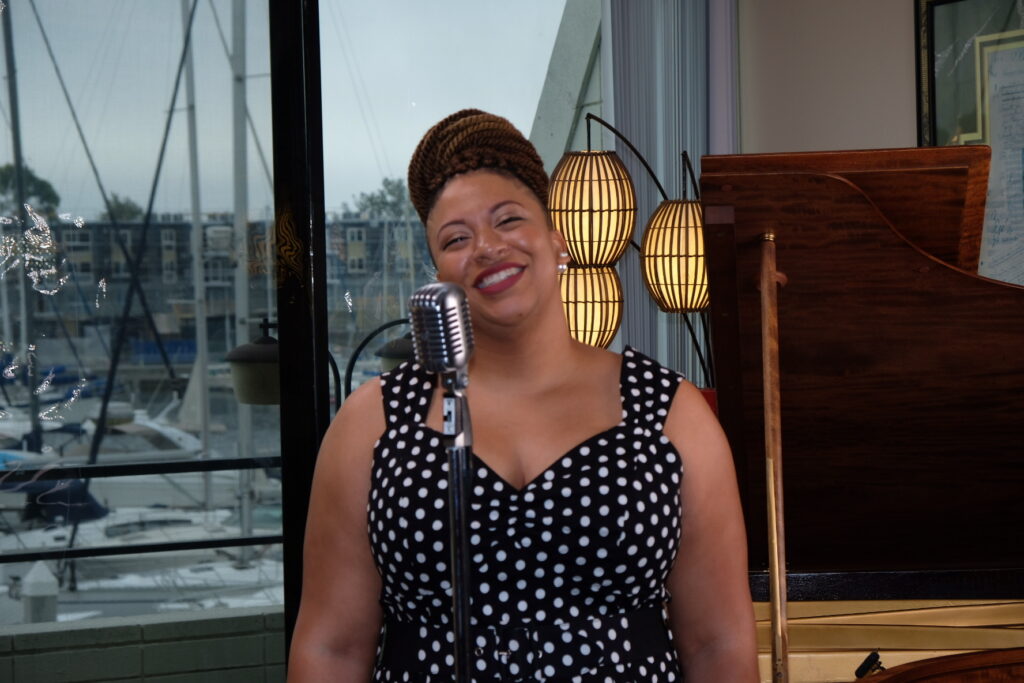 After taking just a glimpse at your bio and career, it seems as if your entire life, in one way or another, revolves around music. How much of a factor was music in your childhood and in your formative years?
I grew up with music all around me. My mother tells me that she would sing to me while I was still in her womb. As a child I have fond memories of my family singing together with my mom playing the piano. Growing up, my sisters and I would create songs for almost any game or chore. I sang in church, at school, and at home. Music defines me, I would not be the person I am today without those rich melodious experiences.
Do you think it's made a difference in your life and personal path?
The most influential part of choosing music as a career is my personal testimony of faith. As a teenager I was diagnosed with Temporal Mandibular Jaw Disorder (TMD), where I was incapable of singing for one year. Through various medical diagnoses and recommendations, I refused the risk of surgery; and prayed to God for a miracle.
At the time I had been extremely narrow-minded in what music I liked. I was young; I automatically shunned things that I didn't understand… until I could no longer sing. Along with the prayers of many, I too prayed to God and said: "God, if you heal me, I will sing ANYTHING… I'll become a professional yodeler, perform Mariachi, or be the a Country Music Star… if you just let me sing!" Yes, I was desperate.
After a year of accepting a life with TMD, I woke up one morning and I was miraculously healed. There was no pain, full function of my jaw was restored and I was ecstatic. As I thought to myself, what should I sing? An invisible, audible voice said: "OPERA."
The previous year I had been in a community organization called the San Diego Youth Master Chorale, led by Eileen Moss, where the director was a retired Metropolitan Opera singer. I called her up immediately, signed up for private lessons, and my life-long journey to professional singing began. From this experience, I learned to respect all genres of music and I became determined to always find the beauty in any musical work. I was aware of my God-given purpose, extremely humbled and grateful for the opportunity to share music.
Aside from singing and performing, you also teach music. How do you see music making a difference in these kids' lives? Or, better yet, how would you like to see music making a difference with kids and youth?
Although I have a rather biased opinion, music is the ultimate exemplary discipline. It is a subject that can assist children in any other area of learning. As a teacher, I focus on the mathematics of music-making all the way to the philosophical connections of aesthetics and taste. Students get to combine music with coordination and mechanics, literature with language and verse, freedom of performance and overall technique. In short, make a difference by providing them with tools for the present and future: discipline, critical thinking skills, creativity, and cumulative personal progress. I hope to use the benefits of good music to inspire and motivate kids; may they succeed in school and ultimately in life.
From classical arias to jazz standards to Gershwin and Prince, you seem to be able to sing anything. And you seem to enjoy the bejeezus out of it all. Do you even have a favorite style, genre or tune?
I believe that opera is the most challenging and rewarding genre to sing among all others. Within this category I exercise a level of freedom and discipline that takes years of mastery. On the other hand, my heritage and church upbringing make me favor gospel music singing traditions. So the best combination of these genres is my rendition of Negro Spirituals. It allows me the liberty of improvisation with the foundation of the bel canto technique. For this reason I also enjoy recreational karaoke with Top 40 Hits from any era and warming up my voice with any of the 24 Italian Art Songs.
Is there ever a time you don't feel like singing, either emotionally or physically? What do you do to keep both your voice and energy up to par for performances?
I have a wonderful daily routine that includes singing – it is the start and end of my day. The only time for vocal rest is when requested by my doctor. If I ever don't feel like singing, I think back to a time when I could not sing… I realize that it is important to sing as long as I am able.
When I need to prepare for performances I have time designated for practice. This usually consists of 1-2 hours of singing a day, in addition to time needed for memorization, movement, etc. I find that good old-fashioned rest, combined with light exercise, Vitamin C, and caffeine are great energy boosters for my voice. You get to a certain point where the technique starts to work consistently for you, even when you're tired. I am beyond grateful to be at place where I can trust my voice to do exactly what it was created to do.