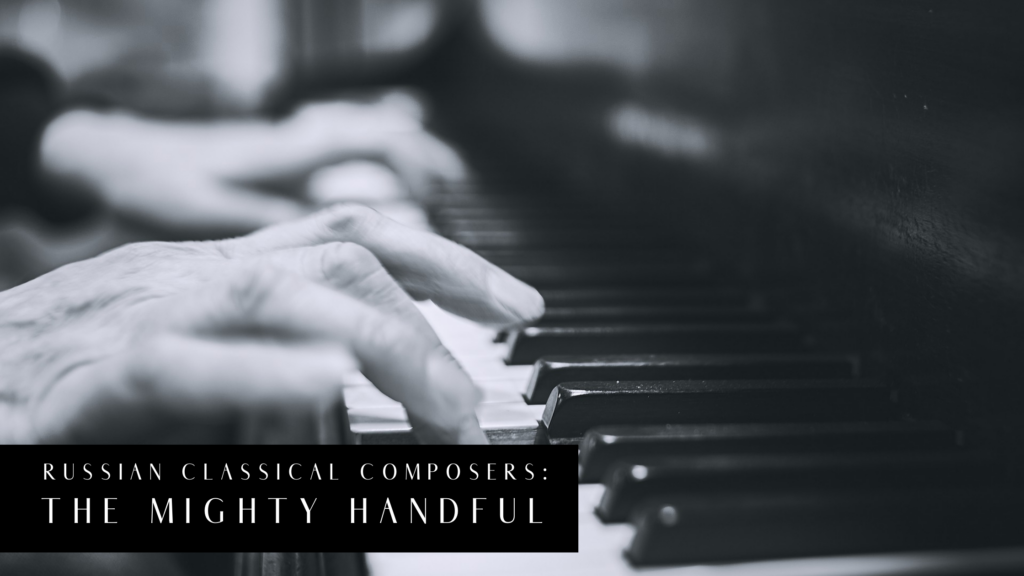 Over 150 years ago, a group of Russian classical composers banded together with the goal of promoting what was then Russian contemporary music. Dubbed The Mighty Handful , or simply The Five, these young musicians all hailed from Saint Petersburg and devoted nearly two decades to their mission of introducing the world to Russia's unique classical wave.  
The five unforgettable Russian classical composers of the 19th century
The compositions and performances of Rimsky-Korsakov, Glazunov, Mussorgsky, Balakirev, and Borodin were inspired by Russian folklore and history, using traditional harmonies. Toward the end of the 19th century, the group dubbed the Mighty Handful succeeded in introducing Europe to Russian masters, opening the way to a golden age for Russian classical music. Europe's standing notion of Russian music being uncouth and unsophisticated was all but erased. 
Mily Balakirev (1837-1906)
Balakirev, the oldest of The Five, was also the man responsible for bringing them all together. As both a composer and teacher, Balakirev had a hand in influencing every one of the Mighty Handful and almost any Russian classical composer who came after them, in one way or another.
His music, exceptionally original and always exciting, did not always coincide with his character and work habits. Somewhat of a sloth and one to take his time, it sometimes took Balakirev years or decades to complete a piece. Perhaps it was exactly those traits that gave him the time and patience to be such an influential teacher and peer to other composers of his time.
In professional classical music, Balakirev is still influential and a household name. Mainstream audiences, however, continue to be more deprived of his sound worlds than they should be.
Alexander Borodin (1833-1887)
Borodin is perhaps the one of The Five who needs no introduction to mainstream classical audiences. From his phenomenal, world-renowned achievements in the fields of science and music, Borodin was a polymath and modern Renaissance man.
Born into an aristocratic family, music was more of a hobby to Borodin, though a side-gig he took as seriously as his scientific career. Borodin created complex, floating harmonies in some of his scores and, because of his many interests and his age, only became the last, completing piece of The Mighty Handful in his later years.
Borodin is responsible for what is perhaps the most famous classical ear worm of all time.
Nikolai Rimsky-Korsakov (1844-1908)
Rimsky-Korsakov was and continues to be one of the most innovative orchestrators in classical history. His superb skills and inventive nature allowed him to compose rich and creative orchestral sound worlds.
Rimsky-Korsakov had very little musical training to begin with, first serving as a naval officer and traveling the world during a 3-year stint in the Russian navy. It was during these travels that the young Rimsky-Korsakov composed his first symphony, despite his lack of training. Over the years, he was mentored by Balakirev, later finding his place at Saint Petersburg conservatory as professor of composition studies.
His masterpieces, Flight of the Bumblebee and Sheherezade remain among the most recognizable classical compositions of all time.
Alexander Glazunov (1865-1936)
Glazunov was introduced to Balakirev and Rimksy-Korsakov as a youngster. His seniors immediately recognized his unusual talent was huge and Glazunov progressed with incredible speed. Rimsky-Korsakov once wrote of his student, "His musical development progressed not by the day, but literally by the hour."
Despite becoming Director of the conservatory in Saint Petersburg, later known as the Leningrad conservatory after the Russian Revolution, Glazunov's heavy drinking and loud mouth were not looked upon favorably by the early Soviet leadership. Having achieved international recognition and respect, he defected in 1928, after touring Europe and the United States, eventually settling in Paris.
Modest Mussorgsky (1839-1881)
An innovative Russian Romantic, Mussorgsky's tale is a sad and difficult one to tell. His life and demeanor are perhaps best described by his composition that is perhaps most familiar to mainstream audiences – his orchestral poem Night on Bald Mountain which was featured in Disney's 1940 animated film Fantasia.
A troubled man, his alcoholism, frequent conflicts with friends and other members of The Five, and perhaps undiagnosed mental illness, his eclectic style went on to influence not only other Russian classical composers but musicians throughout other musical genres like progressive rock and pop music.
Much of his work was underappreciated and unavailable until after his death, when composers like Rimsky-Korsakov polished Mussorgsky's scores up to performance standard. Just as his career peaked, the most eccentric of The Five suddenly spiraled into fits of madness, leading to relationship conflicts, poverty, and depression. He died at age 42.
After the methodical, deliberate breakout of Russian classical music onto the world stage, the trend has continued over the last century and a half. Later, Russian classical composers like Shostakovich, Prokofiev, and Rachmaninoff shocked and awed audiences world-wide with almost impossible to play pieces. In the sunset years of the Soviet Union, contemporary composers like Alfred Schnittke, Edison Denisov, and Sofia Gubaidulina enthralled the world's attention with the same mesmerizing musical magic as that given the world by their great predecessors.